Six key insights on digital consumption trends across the Asia Pacific Region
January 26, 2021
Industry News
Content Provided By:
------------
[email protected]
The exponential spread of COVID-19 has generated unrivalled disruption and triggered changes in consumers' behavior. The APAC Client Insights team at Comscore has analysed the most recent data and here are some updates on the shifting digital consumption trends across the region.
India
It's been a few months since the lockdown was lifted, and India is embracing the new order. Offices are reopening with safety measures in place, we see traffic on the roads again and businesses have restarted operations. One Digital Media Trend that reflects this revival is the recovery of the Car Transportation category.Travel was one of the categories most impacted by the lockdown. However, a handful of travel segments have shown signs of recovery, including Car Transportation. The Car Transportation category saw a 74% increase in Unique Visitors between April 2020 (peak of the lockdown) and October 2020. Compared to pre-COVID–19 levels in January 2020, the reach is still down by 40% but green shoots are emerging.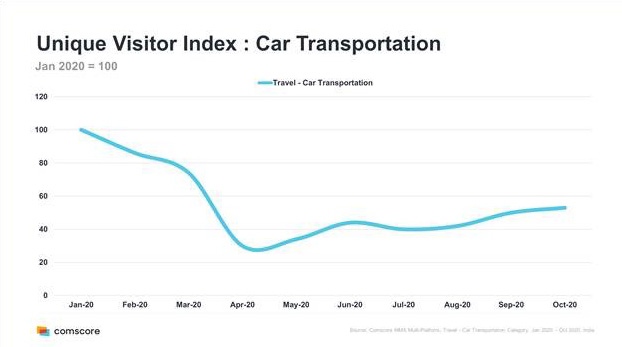 Hong Kong
In Hong Kong the global pandemic gave digital a massive boost with total audience visits across the web at an all-time high in March 2020. One category which benefited from this increased digital interest is news. With months of unprecedented social unrest from June 2019, News and Information visits began a steady upward climb and peaked in November 2019. Public attention turned to the pandemic from late January 2020 onwards, and visits were at all-time high in March 2020. Demand for news increased again in July 2020, as visits were up 14% in July 2020 versus the previous month. The city was cautiously resuming normal life, and there was decline in repeat visitation, though it was still higher than pre-pandemic and pre-social unrest levels.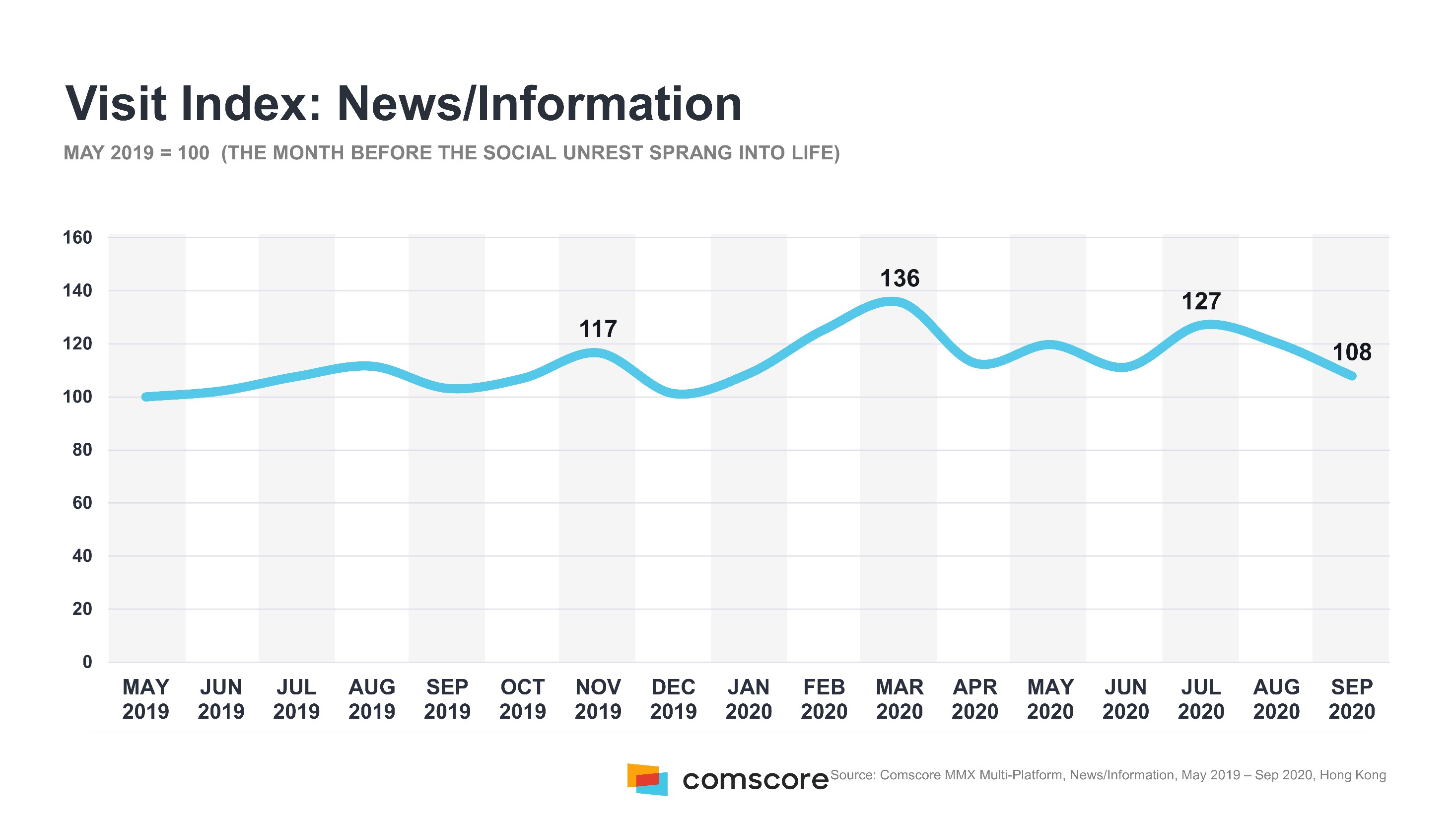 Vietnam
In Vietnam there have been a number of trends which are similar to those seen across the region. One example is the importance of the internet in keeping people connected through these unprecedented times. People may have been socially distanced, but they were virtually connected via Instant Messengers. As people were mostly staying indoors to minimise contact, there was a need for them to remain well connected to others via instant messengers. Time spent on instant messengers increased by 36% in September 2020 when compared to January 2020.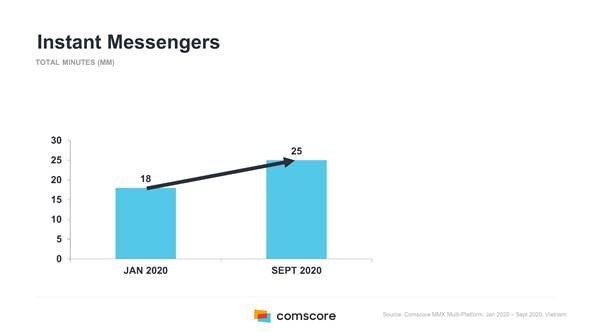 Singapore
One significant outcome of this COVID-19 pandemic is that people are becoming more health-conscious. Other than keeping their minds healthy via reading, Singaporeans were also keeping the body active via exercising. We have seen a consistently large number of people over the past 6 months visiting sports/outdoor sites to buy sports apparels and equipment, taking health supplements to boost the immune system and using diet & exercise/fitness trackers to track their progress.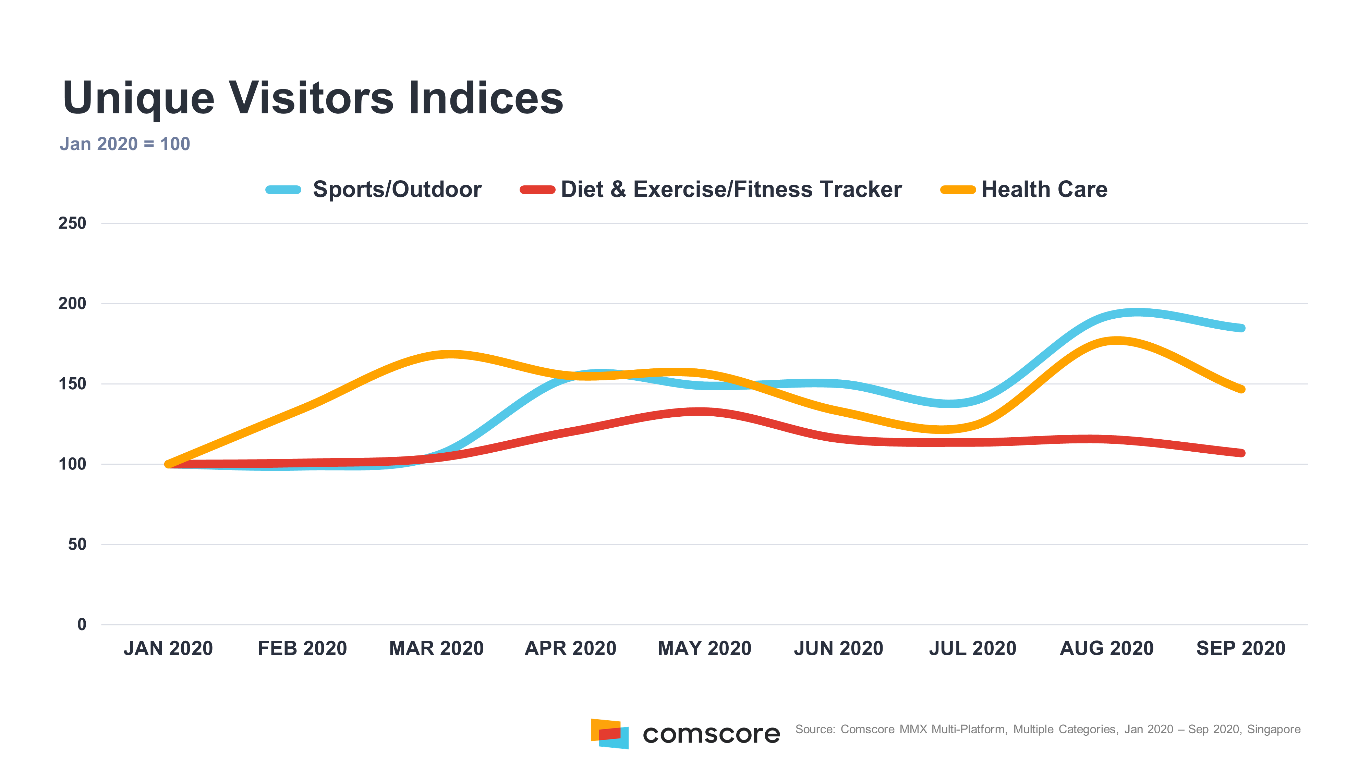 Indonesia
During the period March to September 2020 when Pembatasan Sosial Berskala Besar (PSBB) was implemented, relaxed and reimplemented again, there was an increase in time spent on education sites online. Educational institutions were holding classes online so that students could continue with their studies and learning. Students, teachers and parents were looking for online resources to support learning at home. Time spent on sites in the Education category increased by 167% in September 2020 when compared to February 2020.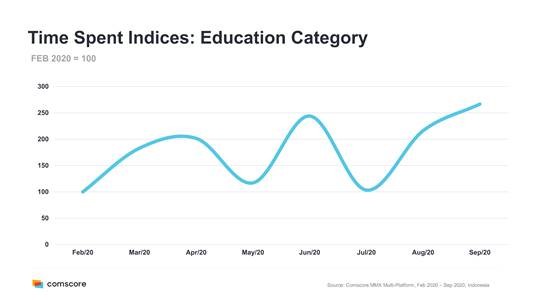 Malaysia
Since the first identified COVID-19 case in Malaysia in January 2020, the UVs to the Health category steadily increased through the first 9 months of 2020. September 2020 recorded a 101% YOY increase in UVs of 9.41 million compared to 4.68 million UVs in September 2019. The time spent in Health also saw a large increase of 255% from 31 million minutes in September 2019 to 110 million minutes in September 2020.